Speaking of Gods: The Discourse of the Extrahuman in early Chinese Texts – Justin Winslett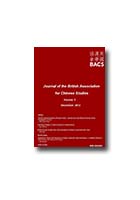 Abstract: Though contemporary scholarship on religiosity in early China has been abundant and
fruitful in the past few years, much of the focus of this scholarship has been on issues
pertaining to ritual and the socio-political role of religion. Few studies have looked at other
issues under the rubric of religion- notably that of the extrahuman. This is interesting both
from the perspective of religious studies, where most scholars define religion in some
capacity with the extrahuman, and Chinese studies, where there have been traditions of
scholarship that have discounted the presence of the extrahuman in early China.
This paper will, hence, look at the topic of the extrahuman in early Chinese texts,
particularly how these texts intellectually engaged with the extrahuman. It will show that a
rich discourse of the extrahuman existed in many texts in early China and that the subject
was a vital one to the arguments presented by the texts. Despite the great diversity seen,
this paper will argue that there existed two dominant approaches in the discourse of the
extrahuman in early Chinese texts titled 'How' and 'What'. This paper will show that these
two approaches are divided in time, with the intellectual discourse of the Eastern Han being
different from that of the Western Han and Warring States. This paper will show that this
change in discourse is a symptom of the changes in the societies and intellectual
communities that constructed these texts.
Keywords: Early China, Extrahuman, Supernatural, Religion, Religiosity, Intellectual History