Ros Holmes wins the BACS Early Career Researcher Prize 2018!
We are delighted to announce that the BACS Early Career Researcher Prize for 2018 has been awarded to Ros Holmes (University of Oxford), for her essay 'Bad Citizens and Symbolic Subjects: Wang Jin, Zhou Tiehai and the Art of (In)Civility'.  Look out for a revised version of this article in a future issue of JBACS.
We would also like to congratulate Denise Kwan (University of Westminster), whose essay 'Dressing Up, Dressing Down!  Situating Identities and Negotiating Otherness through the Bodies of British Chinese Women' was highly commended by the judging committee.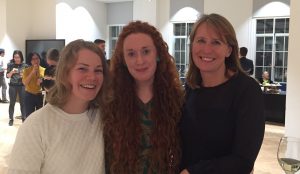 ---
The British Association for Chinese Studies Early Career Researcher Prize, which is kindly supported by the Universities' China Committee in London, was established in 2016 to:
stimulate new research in arts, humanities and social sciences on traditional and modern China;
recognise excellence in the field of Chinese Studies;
promote early career researchers in the field.
The prize
The winner receives:
publication of the winning paper in Journal of the British Association for Chinese Studies (JBACS), subject to satisfactory revision according to judging panel recommendations;
a cash prize of £250;
reimbursement of travel costs to the 2018 annual BACS conference to be held at Kings College London (12-14 September 2018);
mention on the BACS website and in the BACS Bulletin.
Previous Winners:
2017.  Kailing Xie.  'Premarital Abortion, What is the Harm?  The Responsibilisation of Women's Pregnancy among China's "Privileged" Daughters'.  Now published in JBACS vol. 8 (1), Jan 2018: 1-31.
2016.  Pamela Hunt.  'Drifting Through the Capital: "Floating" Migrants and Masculinity in Xu Zechen's Fiction'.  Now published in JBACS vol. 6, Dec 2016: 1-34.